The Expert for Linings of Fittings for Measurement Devices
You've got problems with the adequate construction of linings for fittings of measurement devices?
We develop customized solutions for a constructive lining by means of extrusion.
Fittings to be lined can consist of steel, cast or can be steel-welded constructions.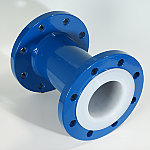 Our currently available production sizes are DIN-3 to DIN-250, and a maximum fitting-length of 500 mm.
For 30 years our extrusion-process turned out to be an extraordinary reinforcement and without competition on the market.